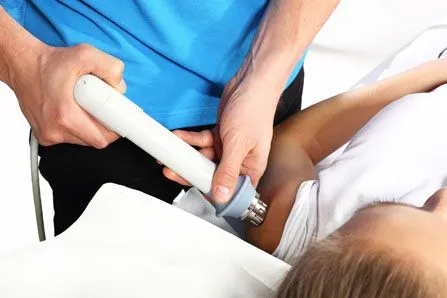 Our Integrated, Holistic Health Care office in Beaverton offers hot laser therapy.
Hot laser therapy helps people with pain and inflammation. It works by improving microcirculation, stimulating cellular repair at the level of the mitochondria, and decreasing muscle tension and pain. Hot laser therapy accelerate the healing process. This results in better mobility, decreased joint pain and muscle tension and faster healing time.
If you suffer from chronic musculoskeletal pain, arthritic joints, nagging injuries, neuropathy, and other painful problems, you need a treatment approach that helps you feel and function better as safely and non-invasively as possible. Chiropractic adjustment, acupuncture, and massage can offer remarkable benefits, but our doctors know how to enhance those benefits even further through complementary techniques such as Hot laser. Hot laser therapy could make all the difference in helping you reclaim your quality of life.

Our team uses hot laser therapy as a sensible adjunct to chiropractic care. Many of the same conditions that we treat through chiropractic adjustment also respond well to cold laser therapy. Examples include:
Tendinitis or bursitis, Lateral Epichondylitis
Fibromyalgia, Neuralgias
Neck or low-back pain, Sciatica
Carpal tunnel syndrome, Plantar Fasciitis
Nerve damage and chronic neurological symptoms
Fractures or other acute injuries
Knee, foot, or other joint pain (including arthritis symptoms)
Research showed that sufferers from facet joint (spinal) pain who received both chiropractic care and hot laser therapy enjoyed a greater degree of improvement than patients who only received one or the other (or no treatment at all).
What to Expect During and After Hot Laser Therapy
Hot laser therapy doesn't cause any discomfort; the treatment itself usually feels warm and soothing. Each treatment you receive may relieve more of your symptoms, which is why we typically recommend a series of treatments. Many patients experience significant relief right away. Call us today to see how Dr. Vance and the team at Holistic Health Clinic can help you recover faster with hot laser therapy. Over the past 13 years, Dr. Vance has strived to help people get out of pain and get back to functioning and living their lives fuller.